One of the two officially recognized children of Guinea's independence leader, Sekou Toure, has died.
Aminata Toure, the eldest child and only daughter of the African revolutionary icon died on Wednesday, January 12, the government and her family confirmed.
According to reports, she died from pancreatic cancer.
Aminata was the Mayor of Kaloum, a suburb in the Guinean capital, Conakry. She was elected to the office in 2018.
Her late father also once served as Mayor of Conakry.
Kaloum is one of the five municipalities that make up the Guinean capital city. It is the smallest part but most important because of its strategic location, being home to the presidential palace, the country's central bank and other important government ministries.
A ManoReporters source on the ground in Conakry said the city council in Kaloum is flying the Guinean flag at half-mast, in honor of Ms Toure.
Tributes have poured in from all quarters in Guinea, from the government to the opposition, as well as friends and family members.
Guinea's junta leader, Col. Mamady Doumbouya, offered "deep condolences to the bereaved family and the people of Guinea" for her loss, according to a statement from the presidency.
Opposition leader Celou Dalen Diallo in a facebook post recalled attending school with her.
Aminata, who was 69, was the only one of the late former Guinean independence hero's children who followed on his footsteps.
A trained lawyer and entrepreneur in the construction industry,
Aminata moved to the Kingdom of Morocco after the death of her father and the military coup that followed it. She returned home after Guinea returned to democracy in 2010, focusing on entrepreneurship.
She relaunched her political career in 2018.
After trying unsuccessfully to revive her father's African Democratic Party of Guinea, Aminata created a movement named Kaloum Yigui – the Hope of Kaloum – under which she ran independently and won the municipal seat in the 2018 Guinean legislative polls.
Ms Toure was a strong advocate of the ideals of her late father. whom she once described as "the father of all Guinean youths."
She also spoke against the excesses of Guinea's colonial master, France.
Sekou Toure led Guinea to independence from France in 1958, as one of the first countries in Sub Saharan Africa to gain self-rule. Toure, known for his remarkable oratory skills and Pan-African ideals, is on the ranks of his former friend Kwameh Nkrumah, Ghana's first president and independence leader, as well as Tanzania's Julius Nyerere.
Like many historical figures with such influence, the true nature of Toure's family has been the subject of speculations, as some people have claimed blood relations to him after his death.
But he is known officially to have only two children – Aminata and Mohamed Toure. Mohamed is presently serving a seven-year sentence in a US jail, after been convicted for forced labour in 2019.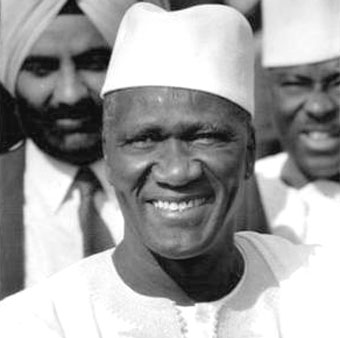 Mohamed is the son of Andre Toure, the Matriarch of the Toure family, who was the First Lady of Guinea during the reign of Sekou Toure. They were married from 1953 to his death in 1984.
Before that Sekou was also married to Marie N'Daw, up to 1952.
Little is known about Aminat's mother, who was Margueritte Colle.
There has been no word yet about when Aminata's remains will arrive in Guinea for burial.