By Kemo Cham in Cape Town
Even though there has been progress in reducing the number of maternal deaths worldwide in recent years, the gains are not enough to meet the global United Nations Sustainable Development Goals (SDGs) targets, Koki Agarwal, an expert in reproductive health policy, has warned.
Ms Agarwal, who is a Director in the USAID Momentum Country and Global Leadership, called for increased collaboration and investment to improve on maternal and newborn healthcare. She was speaking in Cape Town, South Africa on Sunday, May 7, on the eve of commencement of the first International Maternal and Newborn Health Conference (IMNHC2023).
Agarwal, who is also the Vice President of Jhpiego, an international, non-profit health organization affiliated with the Johns Hopkins University, was addressing a group of health journalists as part of a presentation on the state of maternal and newborn health in the world.  
MNHC2023 is the maiden edition of what is meant to be biennial, and it kicked off on Monday, May 8. The four-day event being held at the Cape Town International Convention Center brings together 1, 800 people from across the world, including Sierra Leone.
The organizers hope the conference will enable pathways to drive collaboration, coordination, cross-country learning, and alignment within the maternal and newborn health community.
The SDGs targets envisage a reduction in global maternal mortality ratio to less than 70 per 100, 000 live births and an end to preventable deaths of newborn and children under five years of age by 2030. All countries are also expected to aim to reduce neonatal mortality to at least as low as 12 per 1000 live births, according to the global blueprint on development. It notably requires countries to have a Maternal Mortality Ratio of not more than 140 per 100, 000 live births by the end of the target year.
In Sierra Leone, latest data attributed to the Ministry of Health show that maternal mortality ration has dropped significantly to 443 per 100, 000 live births. For a long time, Sierra Leone led the group of countries with the highest rates of maternal deaths, with 1, 360 per 100, 000 live births, figures from the World Health Organization show. Although there have been some progress over the last few years, challenges still remain.
Ms Agarwal's Sunday presentation was meant to set the stage for the discussions slated for the next four days ending Thursday, May 11. She said that the picture at the global level calls for a concerted effort against maternal deaths, noting that 800 women were dying every day in child delivery, comparing the scenario to the impact of two jumbo jets crashing every day.
"Imagine what would be the news if that happens," she said in the preconference session organized for a group of 12 international press fellows invited by the IMNHC.
The data shows that most of the maternal deaths occur on first day of birth, and one third of newborns also die in the first day of birth.
According to the presentation, latest UN data show a decline in maternal mortality by 34% since 2000, but a stagnation between 2015 and 2020, with 287,000 maternal deaths in 2020.
The same period saw a continuation of decline in under-five and neonatal death (2.3 million neonatal deaths), but at a slowdown pace. For still births, there were 1.9 million deaths in 2020, down from 2.4 million in 2010, according to the data which also show that the highest and increasing share of the mortality burden were in sub-Saharan Africa.
Agarwal said the world was moving at about one fourth of the pace needed to reach the health-related SDG targets before Covid-19, whose impact has further reduced that prospect.
"We were off track to reach many health-related SDGs before the pandemic – and we are even more off track now," she said, although she added that the impact appeared to be smaller in sub-Saharan Africa, with the exception of southern Africa. 
"But many programs, including those serving the health needs of women and newborns, were deprioritized or paused due to a focus on, and disruptions from, the COVID-19 pandemic," she stated.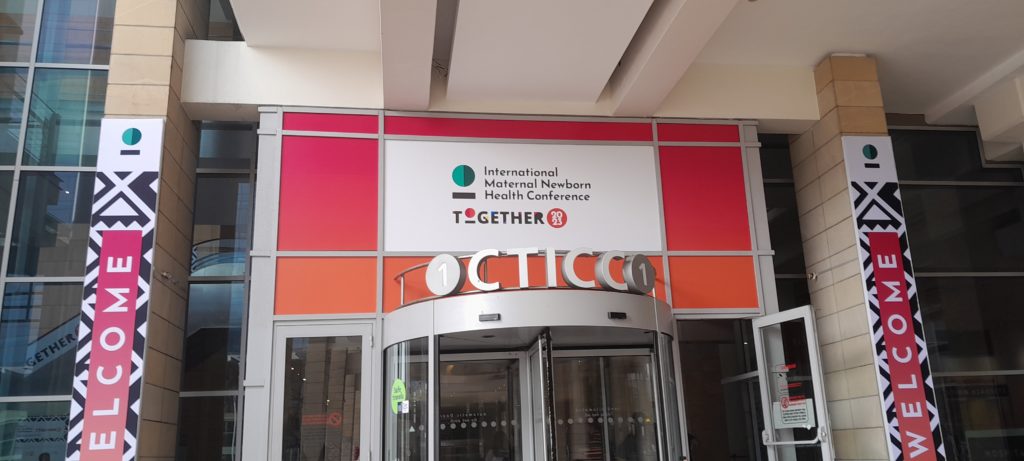 MNHC is organized by the AlignMNH, a global initiative funded by the Bill & Melinda Gates Foundation in collaboration with the US Agency for International Development (USAID).
In her presentation, Agarwal, who is also the Vice President of Jhpiego, a member of the AlignMNH, discussed several issues fuelling maternal and newborn deaths, including poverty, malnutrition, illiteracy, tradition, gender equality and corruption. She also cited lack of respect in healthcare facilities in terms of maternity care delivery, which drives away many service users.
One of her recommendations to addressing these issues is to embrace community health workers and encourage community ownership of the healthcare systems.
"We cannot leave the community out of the health system," she stressed.
About 180 sessions are planned during the course of the next four days. Countries like Sierra Leone, which have an official delegation, will share experiences and learn from their peers as part of efforts to accelerate their response to maternal and newborn health.