The process of waste management in Sierra Leone is taking a giant leap with the introduction of a proprietary technology to fast-track access to services.
A mobile application developed by the Freetown Waste Transformers (FWT) will allow members of the public to not just request for waste collection services but also to schedule their services according to their needs.
The DotiBox App, as it is called, was unveiled for the first time on Wednesday, February 15, during a Beta Testing session in Aberdeen.
Beta testing is the final round of testing a product before releasing it to the public. It serves as an opportunity for the real users to test the product in the production environment and identify any issues before the general release.
"It is the first time we are facing the public, after the last six to seven months we have been working on this app," said Aminata Dumbuya-Jarr, Founder and CEO of FWT, noting that the session was designed to solicit feedback from the public as part of efforts to perfect the App.
FWT is working with the Freetown City Council (FCC) and waste collecting companies as part of the development process of the app, which is developed by a Sierra Leone based information technology firm, Me Domot Incorporation.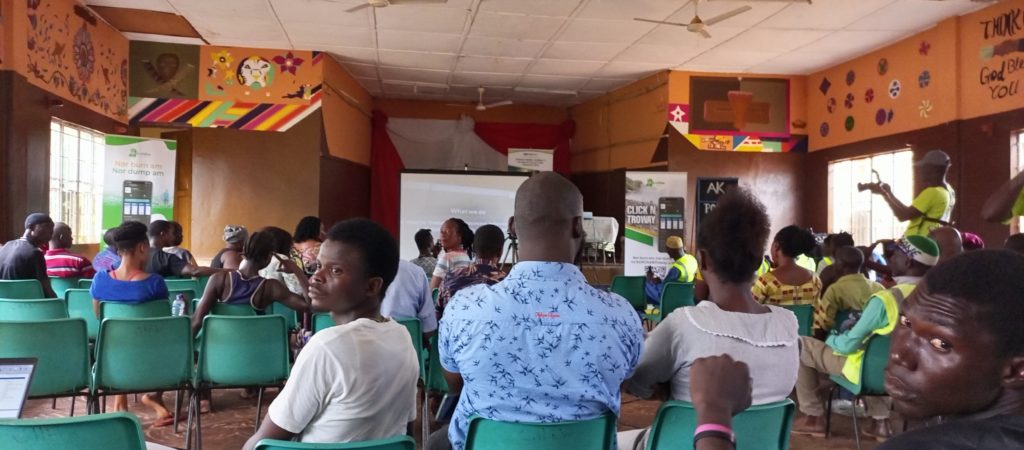 FWT is an integrated company that transforms organic waste to energy. It has been operating in the country for over 15 years in the waste management and energy sectors. In 2020, the company installed the first ever waste to energy transformer plant in the country, which is located in Aberdeen. The plant uses anaerobic digestion technology to convert organic waste into electricity, thermal heat and nutrient rich organic fertilizer. It currently supplies electricity to the Aberdeen Women's Center, a hospital that provides maternal and infant healthcare services in Freetown.
This is one of several reasons why Aberdeen was chosen as a testing ground for the app, said Mrs Dumbuya-Jarr.
"Aberdeen is a touristic attraction, with a lot of hotels and scenic aspects, so what better place to start than a place that is known for tourism and a place that has a lot of investment. And it is also a heterogenous society. It has a good mix of high income and low income, a good threshold to allow us to get the learnings that we need to perfect the app," she told ManoReporters in an interview.
Waste management has been a long time problem for Sierra Leone, particularly in large cities like Freetown, where poor waste management system poses threats of health hazards.
A 2004 World Bank funded study on solid waste management in the capital city revealed that on averaging, each individual generates 0.45 kg of waste per day, translating to over 742 tons/day of garbage generated throughout the municipality. Of this, according to the data, over 84% is biodegradable organic waste, mostly from residential and vegetable markets.
FCC, under its current leadership, has embarked on a series of innovative ideas to transform the sector. Through this process, waste collection groups have been formed across the municipality. Data from the City Council indicate that there are up to 135 groups, each with a membership of between 10 to 15 individuals.
There are, however, many challenges associated with the existing waste management system, including unreliability of the collectors and delayed response to request for services.
Many residents therefore resort to burning their wastes, which poses huge health risks to the population. Some others indiscriminately dump their waste in open spaces. It gets worse during the rainy season, when some people dump their waste in gutters and causing blockage, leading to floodings.
With the DotiBox App, said Dumbuya-Jarr, all of these can be avoided.
"The thing with the app is you as a user, you have the ability to track – the minute you put that request in and that waste collector accepts your request, you are able to see how they are moving, how long it's going to take them to come. So that ambiguity as to whether they are coming or not is erased. You have that peace of mind," she said.
"Technology and digitalization is the future. A lot of us use Apps because it just makes the process easier and much more efficient."
Five among the leading waste collection groups, including Clean Salone, Massada and Mr Clean, will participate in the pilot phase of the operationalization of the mobile app. FWT said it conducted needs assessment to understand their current processes, which were modelled into the technology.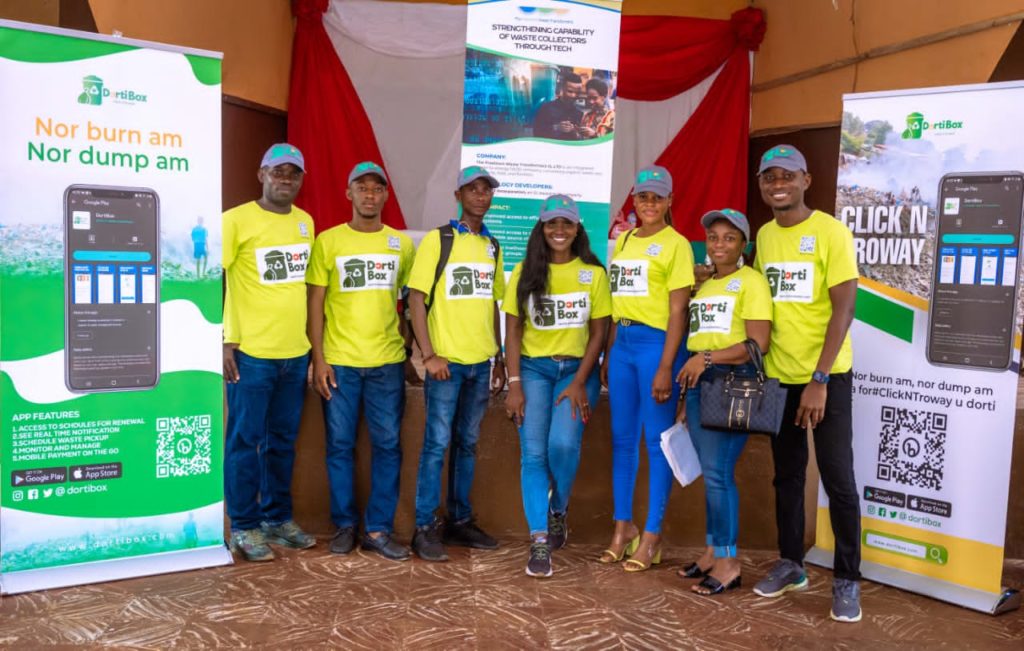 Residents of Aberdeen who attended Wednesday's community engagement had loads of questions, from the potential cost involved to the role internet plays in the whole process.
Technicians from the App developing firm where at hand to explain all technicalities involved.
FWT is leveraging existing mobile money services to make paying easier for both the collectors and service users. The company also said that it is working on a USSD platform, for people who may not have smartphone or have trouble accessing internet service.
"DotiBox is a bridge between you and service providers…DotiBox will be synonymous with waste management, because it will be the bridge. It will be the conduit for the middleman," said Dumbuya-Jarr, noting that the plan is to gradually expand the initiative to the rest of the city.
In May last year, FWT announced that it had secured Development funding of USD 3.9 million from Climate Fund Managers (CFM), along with its technology partners, The Waste Transformers (TWT) to expand it's waste vaporization drive with the establishment of five more plants.
The DotiBox app is available on both Google play store and apple store. After a simple registration, it is good to go.