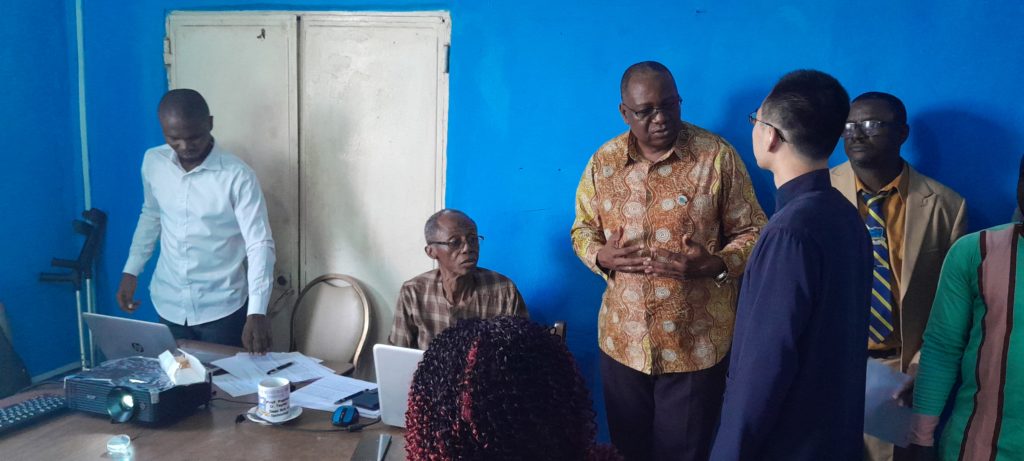 The University of Management and Technology, better known by its acronym – UNIMTECH, is aspiring to be known as provider of quality education, its Deputy Vice Chancellor for Administration, Prof. Osman Sankoh, has said.
And Prof. Sankoh, also known as Mallam O, says the university is seeking to attain this feat through a well trained and motivated staff.
He outlined this plan as part of a presentation to the Chinese Ambassador to Sierra Leone on Wednesday. Ambassador Wang Qing made a courtesy visit to the university on the invitation of Mallam O, who recently joined the institution following the end of his five-year tenure as Statistician General of Sierra Leone.
Mallam O, a renowned Biostatistician, is also responsible for Research, Innovation and Development in his new capacity. He told the visiting Chinese diplomat that they intended to position UNIMTECH not only as a place of excellence for learning, but also for research, to contribute to national development.
According to Mallam O, while the inclination for many administrators would be to seek help in building structures, he was immediately concerned about staff development because it is the basis for the future of the institution.
"If my staff are highly qualified and they teach well, students go out and they want to come here, I will have the money to build buildings. So it is staff development. That is what we want," he said in the presentation that was attended by senior management and alumni of the university.
UNIMTECH, formerly known as IAMTECH (Institute of Advanced Management and Technology), began as a small computer training center in 1991. It later transformed into an institute.
For the last three decades, the institution which is headquartered at Kissy Dock Yard in the east end of Freetown at some point operated as an affiliate of Njala University. Since 2021, it has been operating as an autonomous university, offering undergraduate degrees from four schools – Public administration; Social Sciences; Applied Sciences; and Technology. It also has four other campuses outside Freetown – Lunsar, Kono, Bo and Kambia, with a total student population of 7000.
"If there was no UNIMTECH, about 7000 students would find it difficult to go to other public schools. And I believe this number will increase in the near future," said Mallam O.
UNIMTECH is also seeking opportunity for staff exchange between it and Chinese universities.
"We also want, if we are in partnership, Chinese professors to come to UNIMTECH and teach here for a while. That mutual relation is what we are asking for," stressed Mallam O.
The institution is already making a name for itself in the areas it currently provides tuition, and Mallam O said they intend to deepen its impact by expanding the courses its offers, citing fields of study in applied sciences like aquaculture and engineering.
The plan of the management of UNIMTECH also include offering graduate courses in the near future, according to Mallam O. He added that they also wanted to be a university where institutions can send their staff to be trained for short courses.
"We want to be at the top of the mind in quality education in the country in the next 10 years. But that is only possible if you have a staff that is well trained, well motivated, and have campuses all over. They should be employable graduates too," he said.
Sierra Leone has five public universities, in addition to a few private ones. But overcrowding in classrooms points to the largely unmet needs of the country's growing population.
Mallam O said UNIMTECH wants to fill this gap.
"We want to augment the capacity to train more Sierra Leoneans and others who are interested in getting quality education," he stressed.
China is a leading development partner for Sierra Leone. And Mallam O intends to leverage this mutual relationship between the two countries that spans over five decades to realize his dream for his new institution.
This will not be the first time he will be working with the Chinese government. He attracted Chinese support to both Statistics Sierra Leone and Njala University, where he served as Acting Vice Chancellor concurrently between 2020 and 2021.
Ambassador Wang himself recalled the support his embassy provided Njala University in particularly.
Mr Wang has been in Sierra Leone for just eight months. He said he has spent part of that period visiting local communities and learning institutions, through which experience he felt "deeply impressed" by the friendship and "fruitful cooperation" between China and Sierra Leone.
Wang recalled the start of this friendship with Sierra Leone's support for China's membership of the United Nations in 1971, noting that since then the two countries have continued to support each other at international and regional levels because of the understanding they have for each other.
"We want to see global governance more just and have more representations among developing countries and that is why we support Sierra Leone in a lot of international issues," he said, citing China's recent support in Sierra Leone's bid for the non-permanent member seat of the United Nations Security Council.
Sierra Leone is due to assume its seat at the UN top organ for the period 2024 -2025.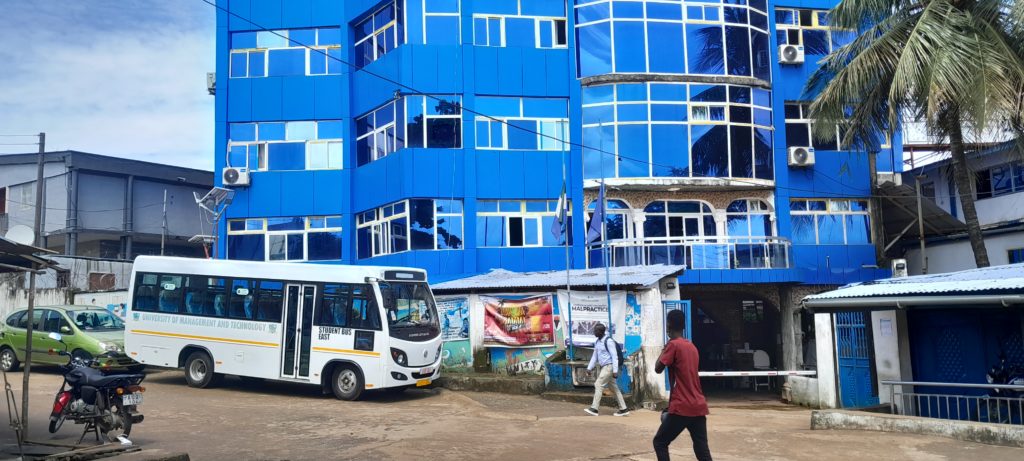 China has been involved in supporting Sierra Leone in many other spheres, from infrastructure, notably the construction of the Siaka Steven Stadium and the main ministerial building – Youyi Building. Most recently, the Chinese government supported Sierra Leone by sending medical and health teams to the country, notably during its fight against Ebola and Covid-19, among other efforts against many tropical diseases in the country.
China currently has three medical teams in the country, based at the China-Sierra Leone Friendship Hospital in Jui, which was built by the Chinese government, as well as at the 34 Military Hospital, which hosts a Level 3 Biosafety lab secured through Chinese funding. Another team of Chinese medical experts are also involved with the innovative mobile health unit.
Mr Wang said China has also provided a lot of assistance in terms of community development, from street lights to boreholes, as well as in the education sector. This year alone, he noted, China provided 155 scholarships for Sierra Leonean students. He promised to include students from UNIMTECH in subsequent available scholarship opportunities.
"All of these [supports] provide the foundation for our relations," Wang said, adding: "This cooperation is based on mutual trust, mutual respect. So I think in the future we will continue to do more."
Ambassador Wang recalled Chinese President Xi Jinping's announcement at the just concluded BRICS Summit in South Africa, where he pledged more support for developing countries. The Chinese diplomat said one of President Xi's three proposals was capacity building, which aligned with one of President Julius Maada Bio's 'Big Five Game Changes.'
"I think in the future, we can see more opportunities in our cooperation," he said, noting that the visit to UNIMTECH provided a basis for such opportunities to be explored.
"In this cooperation, we want to see common development. And in all of this, we provide these assistance without any political string," he said.