By Hassan Koroma
Some 30 children from families with disable parents have benefitted from the Back-to-school initiative of the humanitarian organization, Social Workers Sierra Leone (SWSL).
Each of the beneficiary children aged between 5 to 17 years got a school bag and shoes. They each got a bag and a pair of shoes.
The materials were presented at a ceremony on Saturday, September 9, 2023.
SWSL is a local NGO comprising volunteer social workers who provide humanitarian assistance to communities in distress mostly through psychosocial counseling but also through provision of aid in the form of educational support.
Through the Back-to-school initiative, SWSL seek to help kids whose poor financial background put them at risk of dropping out of school, said Mr Hassan Koroma, Founder and National Coordinator of the organization.
"We all understand the challenges persons with disabilities are going through. Equally so, their kids are faced with their own burden, which include difficult meeting basic needs when it comes to education," he said.
"With this kind of support, the kids will not feel left out in society. So we wanted to influence their spirit and thirst for education, to see its value," he added.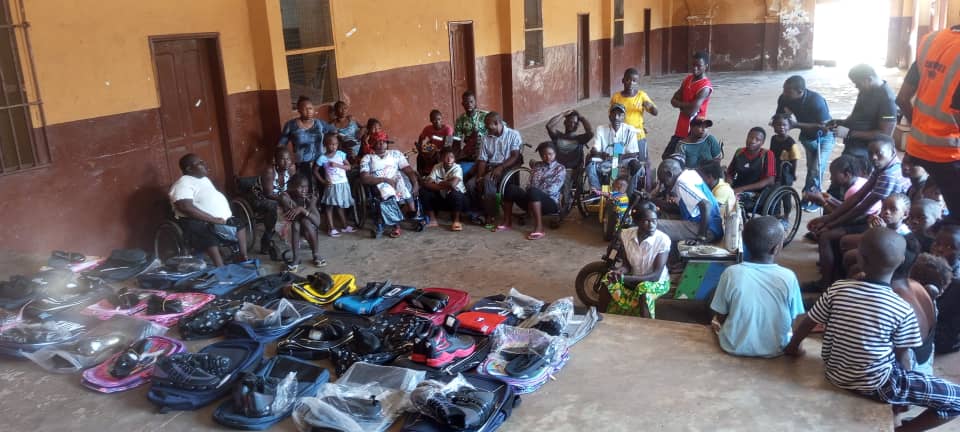 The donated materials were procured thanks to donations from supporters of SWSL, mostly people based in the diaspora. The total donated materials is valued at US$650.
According to Mr Koroma, most of the donors are non-Sierra Leoneans. He noted that they had documented 54 children, but that the funds raised could only provide for 30.
According to SWSL, children born to parents with disabilities face their own unique battle, with a high chance of dropping out of school due to lack of support. Many of these kids end up in the streets, begging with the parents.
"It doesn't have to be this way. Education can transform a child, family and a community through your support," SWSL said in a citation to potential donors.
The funds solicited was to be used to provide each of the 54 beneficiary kids a backpack, pair of shoes, school uniform and books for a school year.
"I want to say thanks to our donors for making this possible. We especially recognize that our campaign attracted non-Sierra Leoneans. Majority of our donations for this year's school supplies come from non-Sierra Leoneans. But of course you have few Sierra Leoneans who made this donation possible. So, in totality we want to say a big thanks to them and we hope that they will always see the need to give chance to these kids and give them hope," Koroma said, singling out US-based social work colleague, Nakia Scott for helping to champion the campaign.
Parents of the beneficiaries were themselves full of praises for the gesture.
Fatmata Kalokoh feels relieved even though only one of her five children benefitted from the largess. She said it's as if a huge load was taken off her shoulders.
"I am thankful to God for the action of Social Workers," she said.
Last year, SWSL supported 50 children with backpacks, shoes and school uniforms.
The organization said its next plan is to engage the parents and have them committed to allow the kids to be in school during school hours.