Protesting women angry about apparent inaction against drug abuse in Sierra Leone have threatened to take their action a step further with nude protest, if the government fails to address the issue.
The female activists protesting in the southern Pujehun district on Saturday called on the government to take immediate and decisive action to stop the importation and sale of harmful drugs, which they say are causing deaths and destruction among their youths and leading to rising crime rate.
Hundreds of women from across the district answered to the call for protest organized by women's leaders, in collaboration with the Women of Wanjama ( WOW), the leading women's association in the district.
Mamawa Kaikai, leader of the protest, accused security forces of being in cahoots with people behind the importation and sale of the drugs.
"Let the message reach the First Lady Mrs. Fatima Bio and her husband, President Julius Maada Bio, that we, the women of Pujehun, are determined to jump into the streets, naked, if they do not stop those bringing 'Kush' into this country," said Mrs Kaikai, amid applause from fellow women and in the presence of local and district officials at the Pujehun Town Court Barry.
Sierra Leone has for a long time been battling this drug crisis. But the current situation is like no other, according to many campaigners.
Of particular concern is the involvement of a synthetic drug called 'Kush,' which is made from Cannabis and other chemicals, some of them harmful to the health.
Apart from mental illness associated with Kush, it also potentially leads to other life threatening health complications, like organ failure, according to health experts.
Kush takers, who are mostly young people between the ages of 15 and 34, appear very emaciated and are seen with swollen limbs and sores all over their body.
Kush users usually go into sleep moments after consumption.
In recent months, images of young men standing still or lying in vulnerable positions in the streets after consuming the drug have inundated social media, prompting calls for action.
Some have even called for government to declare a public health emergency.
Local authorities in Pujehun are worried that the district is becoming one of the hubs for illegal drugs trade in the country.
On Saturday, at the same time the women were rallying in Pujehun, officials from the National Drug Law Enforcement Agency were leading a symbolic mass burial of the remains of 12 unidentified youths who were victims of Kush.
Those who take the drugs say it helps them beat depression, which they blame on poverty and unemployment.
Pujehun is one of the most neglected district in the country and it's home to a large number of unemployed youths.
The district is a stranglehold of the governing Sierra Leone People's Party and a lot of people in top government positions are from the district. But the youths say the politicians only use them for campaign purposes and dump them after elections.
During Saturday's march, the mainly women protesters held placards bearing inscriptions calling for action against drug abuse.
"Kush sellers, you are destroying the manpower of the country," one reads.
"Government, help us to stop the trade of Kush in Sierra Leone," goes another.
"Kush will destroy your health, keep off from it," adds a third one.
"Kindly listen and take the advice," another one warns.
The women, chanting "no more Kush. Kush must go," marched along principal streets of major towns in the district, including the headquarters town of Pujehun. They started from Massahun, the chiefdom headquarters of Kpaka, through Yonni in the Kpanga Chiefdom, Gobaru in Kpanga Krim Chiefdom, and ending in the township of Pujehun, where statements were made by stakeholders.
Twenty-one-year-old Amara Karama is one of very few lucky youths to have engaged in drug use and getting out of it without major damage to their health. He said he consumed Tramadol and Kush, and he decided to call it quit due to complications he experienced.
Kamara actively participated in Saturday's protest, where he told ManoReporters that drug misuse forced many young men like him into vices like stealing.
"Many of us were very clean and decent before we started smoking Kush. This is not good at all. This is backwardness for us," he said.
"When our mothers came up with this good initiative, I decided to join them to help communicate with my friends to also see reason to stop smoking Kush, because these drugs deteriorate our cells and body generally. Those of us who were very energetic, helping our parents to work, are no longer doing that because Kush has weakened our cells," he added.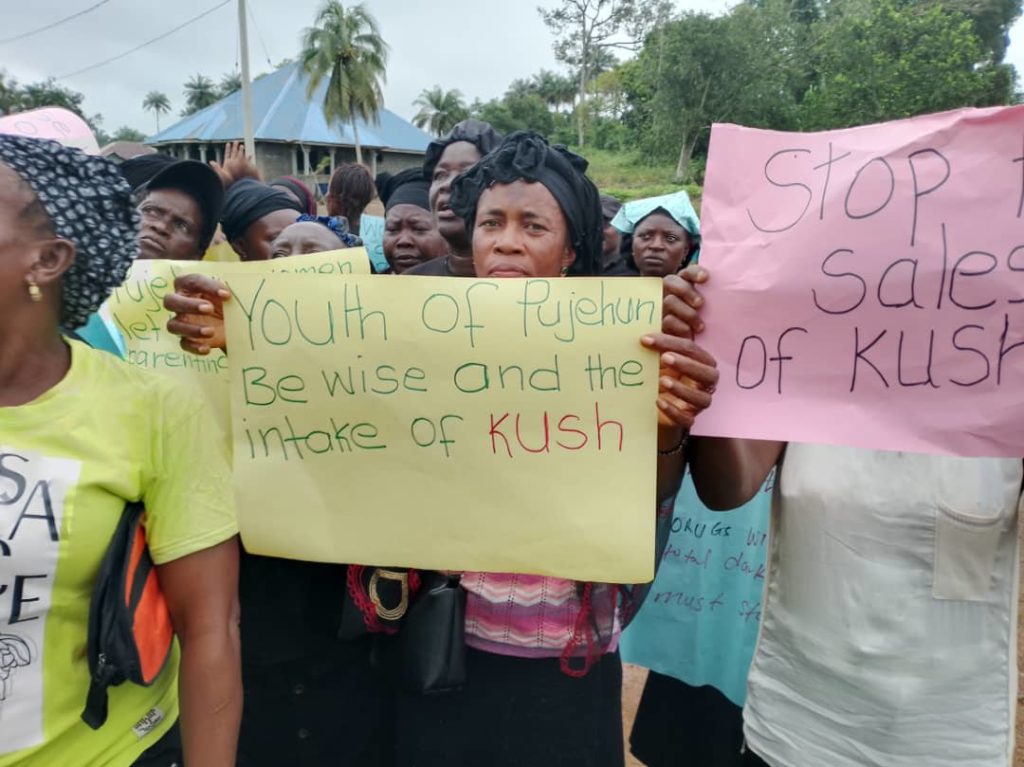 In August, the Sierra Leone Police declared war against drug abuse and embarked on massive raids in which a lot of the leaders of 'ghettos' where the drugs are sold were arrested.
But the women say the police aren't doing enough.
According Kaikai, the idea of marching as a form of protesting the dire situation was born out of a long time situational observations by herself, prompting her to engage in series of consultations with her colleagues and other stakeholders within the district.
As a parent, Kaikai herself is indirectly a victim of the Kush menace. One of her sons, she said, is suffering from mental health issues attributed to drug abuse.
"We decided to embark on this demonstration because as parents, as mothers, we are suffering. Our children are dying because of Kush. We cannot sleep at night for fear of thieves. There are too many criminal activities going on in this district, all as a result of these dangerous drugs. So we think enough is enough now. It is time for action against this menace," she lamented.
"Teachers have been telling us that in the classrooms, while they teach, the boys are busy sleeping and this has affected learning outcomes," she added.
Mohamed Kallon, a representative of the Ministry of Youth Affairs in the district, was happy about the protest.
As Chairman of the District Youth Council, Kallon said he would give his "strong backing" to any institution or group that engage in a similar campaign, noting that it's exactly what his Council anticipated.
"When we saw them protesting peacefully against drugs, we gave them our supports because as Youth Council, we see this as a blessing and a great move to protect the young generation," Kallon, who was himself marching alongside the women, said.
"It's a campaign that we should have taken the lead on, talking to our colleagues from house to house, ghettos, and attaya bases etc. But since it has now started with the women, all we now need to do is give our support to win the fight against this menace," he added.
Also among the marchers on Saturday was Aminata Kemokai, a representative of the disabled community in the district. She said a large number of people from her community have resorted to drug use as escape route from depression.
"What most of them usually tell me is that they are depressed because of the condition they see themselves in. That is why they are taking drugs. But I keep telling them that it is not the best way to deal with depression," said 65-year-old Kemokai.
She also challenged the authorities to play their one part in addressing the drug menace.
"These drugs are not manufactured in this country. They are coming from outside of Sierra Leone and the authorities know about it. So, they need to do everything possible to stop it," she said.