By Kemo Cham
One of Sierra Leone's iconic relics of the Trans-Atlantic Slave Trade, Bunce Island, has been raided and vandalized, the Monuments and Relics Commission (MRC) says.
The head of the Commission, Joseph Kaifala, broke the news in a statement dated 11 November, which was seen by ManoReporters on Sunday, 12 November. It says that the incident occurred on 3rd November.
According to the statement, the Commission received notification from guards on the island who reported that the attackers stole various objects and removed glass windows from the visitor center.
The statement added that Mr Kaifala visited the Island on Friday, November 10, to inspect the extent of damaged on the facility.
"In addition to the damages caused by the pirates, the historic island needs urgent cleaning, renovation, and protection before the tourist season begins," it states.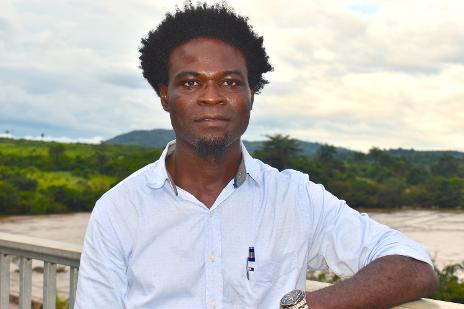 Bunce Island is located 20 miles upriver from the capital, Freetown. It was one of the most lucrative slave trade posts during the Trans-Atlantic Slave Trade period, from where tens of thousands of people were transported to the West Indies and North America.
The Island was proclaimed as a National Monument and Relic site in 1949.
According to the World Monument Fund (WMF), which works towards preserving historic architecture and cultural heritage sites around the world, an estimated 30,000 people were sent to slavery from Bunce Island over a period of over a century.
Successive governments had paid less and less attention to the island as a potential tourist attraction, to a point that it became largely abandoned.  
Under a restoration project between October 2017 and July 2020, which was supported through the (US) Ambassadors Fund for Cultural Preservation, the WMF constructed the visitor infrastructure, which included an interpretation center, pathways, and information signs, designed to help tourists engage with the site and raise awareness of its role in what is considered as one of the darkest period in mankind's history.
Mr Kaifala, who recently took over the Monument and Relics Commission of Sierra Leone as chairman, told ManoReporters that Bunce Island which is uninhabited is guarded by just a few personnel both day and night. He said these unarmed guards had to flee for "for their lives" towards the other part of the island when the "pirates" stroke.
"The raiders must have been boatmen raiding for what they thought were valuable stuffs on the Island. However, we still don't know where they sailed from or how many there were," Kaifala said in a whatsapp response.
The statement from the Commission said that the police in Pepel were investigating the incident.