Guinea's military leader, Col. Mamady Doumbouya, is in Sierra Leone for an official visit, the first since assuming power last year.
Col. Doumbouya and his heavily guarded entourage travelled by road from Conakry and they entered Sierra Leone via the border entry point in the northern district of Kambia. He was received there by Vice President Dr Mohamed Juldeh Jalloh, who said the Guinean strong man is in the country for bilateral talks with President Julius Maada Bio.
"This visit will bolster the strong socio-economic, cultural and political ties between the people of Sierra Leone and Guinea," Jalloh said in a statement issued via a facebook post.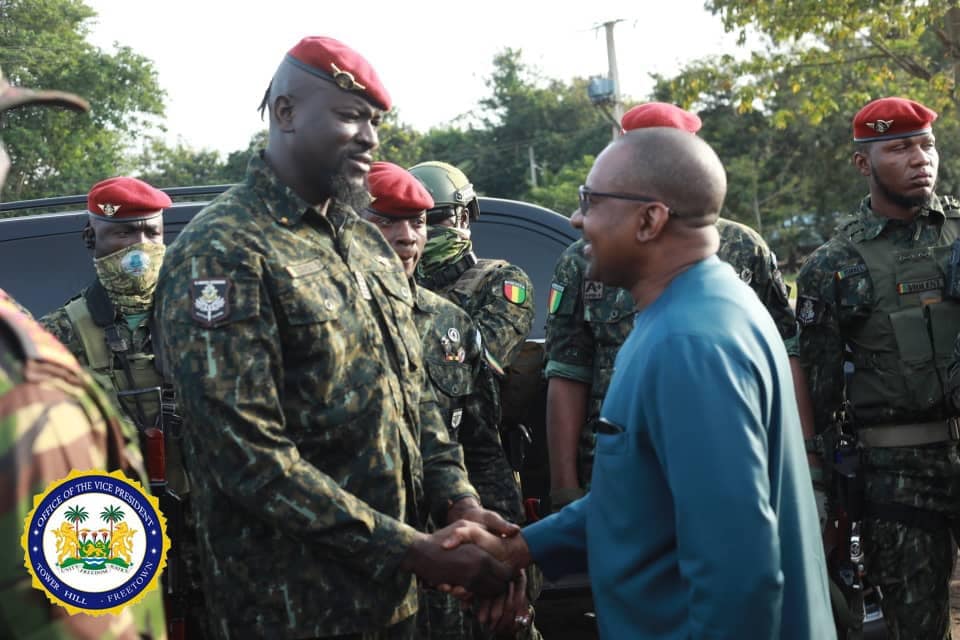 Guinea, under military rule since September 2021, is under pressure to transfer power to civilian rule and it faces tougher sanctions by the regional grouping ECOWAS.
Bio, a former coup leader himself, in October last year caused stir when he called on ECOWAS to dialogue with the junta instead of employing heavy handed response to the crisis. It followed a visit by the Sierra Leonean leader to Conakry where he held meetings with Doumbouya on security matters. That visit was widely criticsed as undermining ECOWAS' position on Guinea.
The two neighbours also have outstanding security issues to address, notably the protracted border dispute in the small Sierra Leonean town of Yenga, which Bio had said was a concern for Sierra Leone if Guinea is destabilised.
"Guinea is a neighbour. We do quite a lot of things together. We have security arrangements which are falling apart. I needed to sort those out," Bio said in an interview with the US television network, CNN, in defense of his position.