Social Workers Sierra Leone (SWSL) has conducted a Forgiveness, Gratitude and Appreciation (FGA) session for flood victims in Old Wharf, as part of efforts to heal them emotionally.
Over 50 participants gathered at the All for One hall in Lower Joshua for the nearly five hours event.
FGA is a psychosocial approach used to promote resilience and wellbeing among traumatized individuals and communities.
Lower Joshua, a section of the Old Wharf community in Wellington in the east end of Freetown, is one of the areas affected by the August 28 flash flood in Freetown. The disaster occurred after hours of heavy downpour. Houses were destroyed, lives lost, and hundreds of people displaced after water overwhelmed their dwellings. There was also a landslide in Looking Town, where six people reportedly died.
According to the International Federation of Red Cross and Red Crescent Societies (IFRC), a total of eight people died nationwide, with four missing as at the time of its report, due to floods and minor landslides reported between 29 August and 7 September. Some 79 others were injured, and more than 12,900 people affected in all affected, the organization said. Freetown, where all of the fatalities occurred, was the hardest hit.
Lower Joshua is one of the lucky areas where no life was reported lost. But residents, like Morikeh Fatorma,lost properties worth millions of leones. The unemployed father of five, who is in charge of a total of 10 people in his extended family, spent days in temporary shelter after their home was rendered uninhabited.
"When flooding happens, we have to choose between saving lives or properties, and children are usually the most vulnerable. We obviously settle for lives. Therefore, I lost all my properties, including a brand new television set I had just bought," laments Fatorma.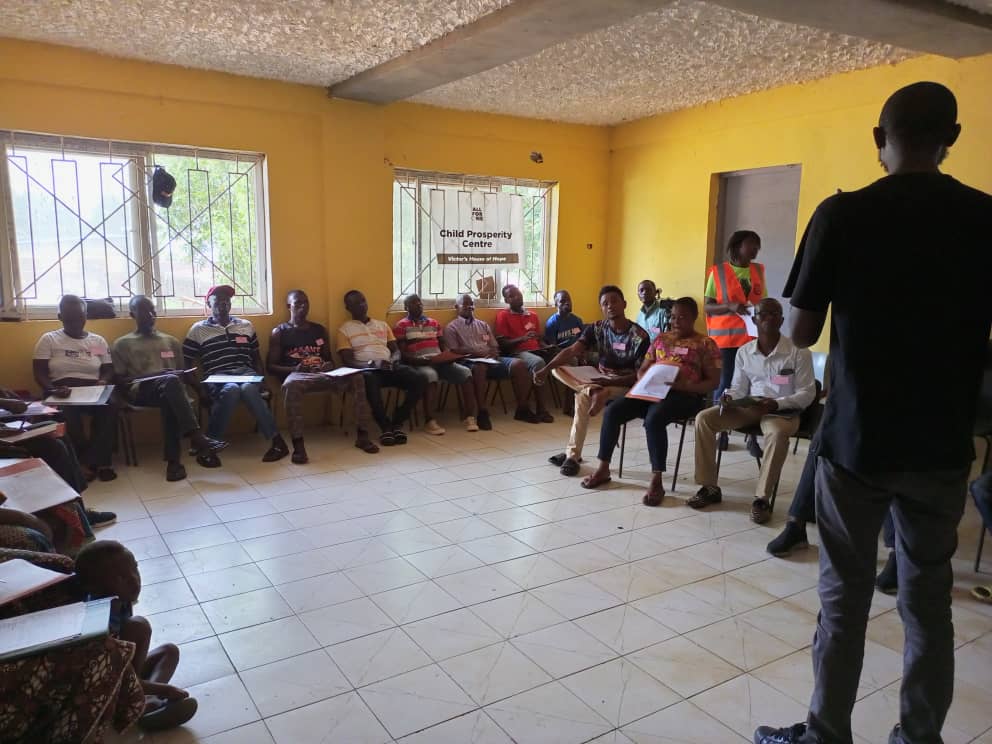 SWSL is a group of volunteer social workers who provide psychosocial support for individuals and communities dealing with traumatic experiences.
Musa Amara, Psychosocial and Communication Officer of the organization, coordinated the event. He said a collaboration between them and the Ministry of Social Welfare for an initial assessment of the impact of the disaster informed the idea of conducting psychosocial counselling for the community.
"From the data collected and other interventions we carried in the community, we saw that there was the need for a particular intervention to also address the psychological impact of the flash flood.These people did not only lose their properties, they also lost their shelters. And we know the psychological impact of that…Our goal is to ensure that at the end, we are able to build their resilience to withstand the pressures resulting from the trauma," says Amara.
The FGA session featured several presentations that go along with teaching and exercises, all designed to help the participants deal with stress within their own sociocultural, economic and religious realities, with the ultimate goal of attaining peace of mind.
The participants, among them parents, housewives and traders, were introduced for the first time to various skills to help them overcome their stresses. The session also offered them the opportunity to speak about deep-rooted grievances and learn about the need to forgive others who hurt them.
SWSL Founder and National Coordinator, Hassan Koroma, led the opening session with Temperature and Wellbeing. This segment, according to Mr Koroma, assesses the emotional mood of the participants.
"Temperature check empowers participants to identify level of stress. It's like a diagnostic tool to understand their mood, how they feel and their level of feeling," says Koroma
He adds that repeating this activity helps the social workers track progress on the audience and how they transform their feelings from negative to positive.
Old Wharf is one of the most economically disadvantaged communities in Freetown. A lot of its inhabitants rely on petty trading as source of income. The vast majority are unemployed. The community, situated on a low-lying terrain, also epitomizes a common environmental issue in Sierra Leone – people building in uninhabitable lands that are susceptible to disasters like floods and landslides.
The combined effects of all the activities conducted during the FGA session are that they encourage participants to identify issues causing them stress, discuss them and learn how to let go of the grievances.
A complete FGA session would normally comprise at least 12 activities and ideally lasts for two days. But due to resource constrained, Koroma says they constricted the time into a day's programme, which meant that just about half a dozen of the activities were done.
Rachel Keister, Case Worker at SWSL, is one of five volunteers who took turns to present the activities.Her first segment, Grievance Stories, brings out the deep-rooted issues in the audience, beyond the problems the flood afflicted in them. They range from differences in marital homes to pressures of unemployment, and betrayals.
"This is a very emotional moment because this is where we encourage people to write down their stories, and not just any story, but stories that have caused them emotional pain. It's a way of letting go, because studies have shown that when people write down how they are feeling, it kind of help them release the stress," says Keister.
Among the participants is Ali T. Mansaray, chairman of Lower Joshua. He heaped praises on SWSL for reaching out to his community in time of their need.
"They have taught us how to control ourselves in the middle of stress and we have learnt so much to help us in the development of our community," says Mansaray. He added that while they valued all supports so far rendered to them in the aftermath of the disaster, they would rather have permanent solution to recurrent flooding in the last few years, for which he called on government to intervene in this regard.
Another beneficiary, Emma Kamara, says the session helped ease her stress level instantly. She also learnt why it is important to love others, regardless of what they may have done to you, she says.
SWSL was supported to conduct this session by LemondAid Fund. The US-based nonprofit is a pioneer of the FGA approach, which its founder, Dr Nancy Peddle, believes is crucial to attain resilience, happiness and psychosocial wellbeing. Dr Peddle has been collaborating with SWSL since its founding in 2012 and together they have responded to major humanitarian crises that befell Sierra Leone, including the 2014-2016 Ebola epidemic and the Covid-19 pandemic.