Dozens of people have been left homeless in Zimmi Town in southern Sierra Leone, after rainstorm destroyed their houses.
The incident occurred around midnight of Thursday January 26th, after several hours of torrential rain following a heavy windstorm.
Figures from the Office of National Security (ONS) in Pujehun indicate that at least five hundred people were affected and are now struggling for shelter and other basic necessities.
Zimmi, a town in Makpele Chiefdom, is one of the largest communities in Pujehun and it is situated along the Pujehun-Liberia international highway. The town is one of the seven communities in the southeastern part of the country that host part of the Gola Rainforest National Park. But Zimmi has been badly affected by deforestation, thus exposing the community to harsh climatic situations.
Trade, farming and mining are the main sources of livelihood for most of its inhabitants.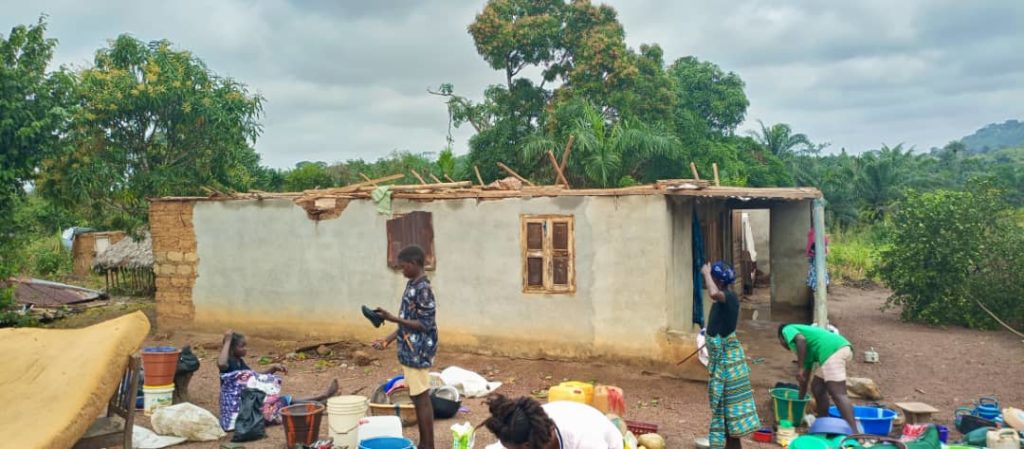 On the day of the incident, residents of the town woke up to scenes of destruction that had swept through the community. Ibrahim Sesay, Principal of the Ahmadiyya Secondary School in the heart of Zimmi, is one of the victims.
His only house was completely destroyed, he told ManoReporters. Mr Sesay was in tears while explaining his ordeal.
"I have lost the only home I worked for several years to build. I don't even know where to start from at a time when building materials are very expensive," he said.
Foday Jaiah Kamara, himself an affected resident, has been helping officials from the District Council and the ONS assess the damages caused by the rain. He said that for the past 10 years he has been living in Zimmi Town, this is the first time he's experienced a natural disaster of this magnitude there, which he described as "catastrophic and devastating."
Mr Kamara said they were shocked by the level of downpour at this time of the year, when Sierra Leone enters the dry seasons.
Alfred Peter Gbani, ONS' representative in Pujehun, has been coordinating response efforts with the National Disaster Management Agency (NDMA) in Freetown. He said that upon receiving report of the incident, he immediately alerted the agency and a meeting was scheduled for the same day to discuss the response.